Welcome to Rose Petals
Wedding Floral & Design Company
Meet Rose Braden

Founder, Lead Event & Wedding Florist/Design Specialist
Rose has been a resident of the Vail Valley for over 20 years. She is dedicated to providing the Vail, Denver, and other Colorado areas with exceptional floral design ideas that transform their special wedding and event into an elegant and unique experience.
Her knowledge of floral design comes from an intensive European Master Certification course she took abroad. While there, she fell in love with European styles and designs. By attending international floral seminars, she is able to learn and stay updated on new floral techniques and innovative ideas that she can integrate into her business.
From the first interactions you have with Rose, you'll notice her keen eye for detail and her eagerness to manifest your vision into a reality. She is also an expert at incorporating other elements of design outside of floral design into her weddings and events. Whether you're looking for simple floral arrangements or want an extravagant event that pulls out all the stops, Rose will make it happen as a professional Colorado wedding florist.
Rose Petal's Unique Team

Event & Wedding Florists, Designers, and Artists
Our innovative Rose Petals team will add a creative flair to your event that only we can provide. Our team consists of varying interior designers, artists in several mediums, and floral growers and gardeners. Each team member has attributes that bring an imaginative style to the creations made in Rose Petals' design studio. And you can trust that each member uses their brand spectrum of design knowledge to give you the experience of a lifetime.
We staff anywhere from 2 to 30 team members on a project depending on how much extra help we need to complete the event. We recognize that each client has different needs and wants, and our versatile staff of event and wedding florists, designers, and artists allows us to choose the perfect members to assist based on the needs. Having a creative event and wedding floral design team enables us to create results that can only be accomplished with the varied perspectives and skill sets that each team member brings to the company.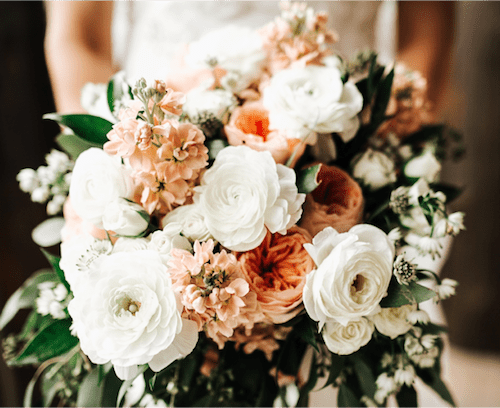 An Eco-Friendly Wedding Florist
Rose Petal's spacious design studio is home to the many wedding bouquet floral creations and design concepts that are made. As an eco-friendly wedding florist, Rose always strives to incorporate several eco-friendly aspects into her business. Her warehouse is powered by solar energy to minimize their carbon footprint. Our flowers are regionally sourced and are are all preserved and maintained by the use of vitamins rather than harsh or harmful chemicals.